What is W-Modbus?¶
W-Modbus eliminates the need to run control cable for Modbus RTU installations significantly reducing time-consuming cable installations, installation planning, troubleshooting, and daisy chaining. A W-Modbus unit can be configured either as a Gateway that is connected to the Modbus Client or a node that is connected to the Modbus Server. A W-Modbus network can consist of up to 100 Nodes.
The W-Modbus module is built with LumenRadio's MiraOS and MiraMesh, consisting of several patented features enabling extremely reliable radio communication, fast installation, and extended range. MiraOS is used in a vast number of installations around the world for building automation, HVAC control, lighting control and industrial sensor networks.
W-Modbus utilizes the international license free ISM band at 2.4GHz.
A W-Modbus network consists of a single W-Modbus Gateway connected to the modbus master/client using a Modbus RTU cable and up to 100 W-Modbus Nodes, each of them connected to a modbus slave/server over a Modbus RTU cable.
The W-Modbus network is built on LumenRadio's MiraMesh, a self-forming and self-healing wireless mesh technology.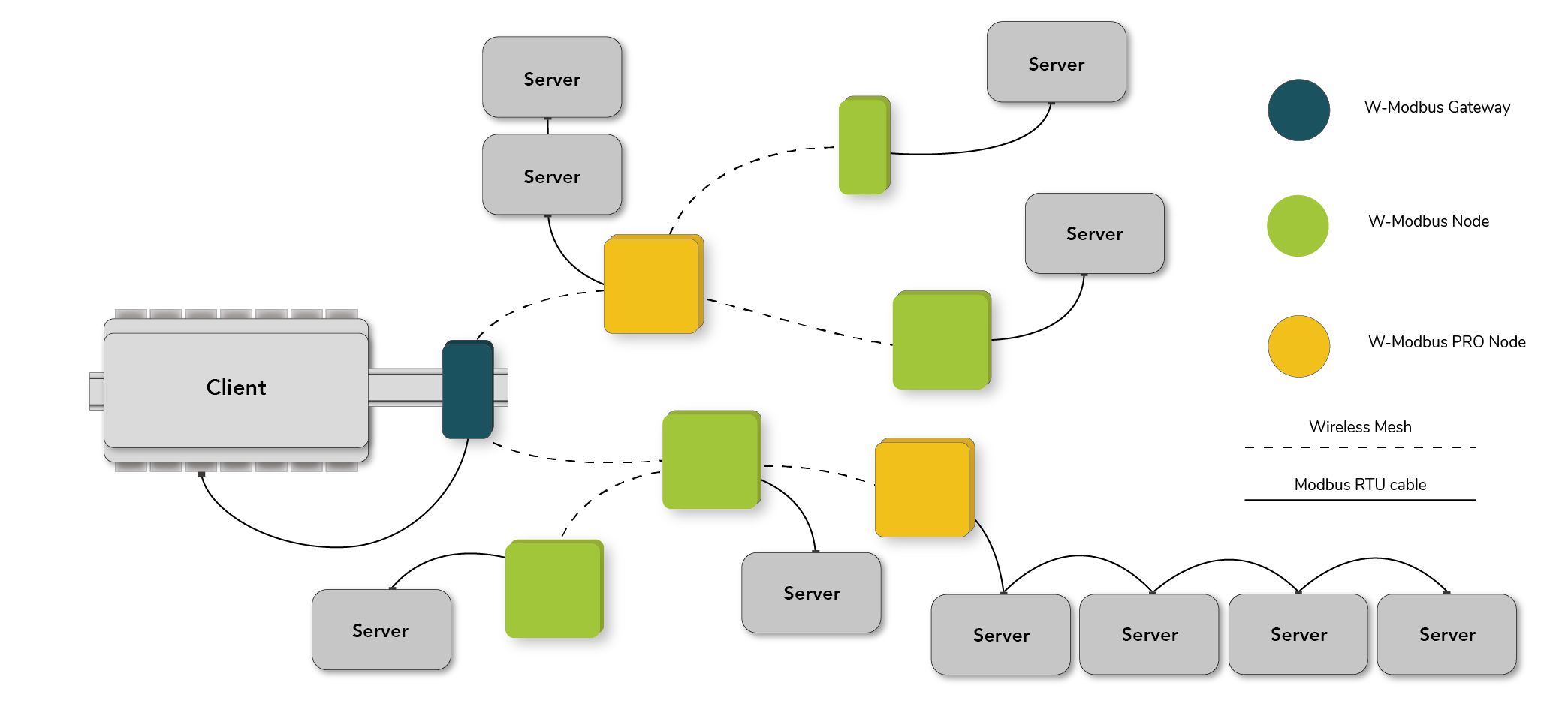 Features¶
Mesh network – Cover an entire building, utilizing the mesh network as your infrastructure.

Self-optimizing network – The mesh network will always find the best way to send messages through the network between devices

Cognitive Coexistence – LumenRadio's patented technology provides industrial grade reliability and immunity to interference

Modular configuration – you no longer need to have the same baud rate in the whole network, supports individual settings for each device

Small footprint at 18.5 mm x 33.5 mm

U.FL/IPEX external antenna connector

Firmware upgradeable via BLE

Up to 100 slave/server nodes per master/client